Public
Address System
Public Address and Emergency Voice Evacuation has become a Life Safety System in all High Rise Towers and Complexes. This system not only provides soothing music in the premises but also plays a life saving role when it comes to emergency and evacuation.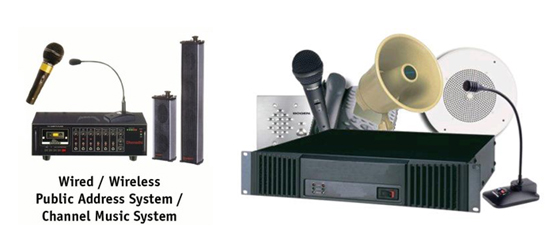 Sun Infratech has partnered with industryís leading Audio manufacturers for the Life Saving Emergency Evacuation System. Sun Infratechís Audio supplies some of the best equipments such as Fire Retardant Speakers, Matrix Systems, Multi-zone paging Amplifiers, Volume Controls etc. for a complete PA/EVAC System. Needless to say that this system is integrated with the Fire Alarm System to notify tenants of the impending alarm and to evacuate to safe zones immediately.
SUN offers you the most precise and cost effective solution for your PA/Voice Evacuation Systems. Our engineers are trained to design proper sound dispersion levels and advise you on the interiors of your property to be acoustic in order to prevent Echo and Sound Reverberations. All terminations are tested and Impedance Matched for best audibility and fidelity.
Ceiling Speakers
Wall Mounted Speakers
Outdoor Horn Speakers
Pendant Speakers
Fire Retardant Speakers
Multi Zone Amplifiers
Matrix Systems
Speaker Selectors
Music Source
Multi-zone Paging Mics
Chimes & Siren Units
Equipment Cabinet
Our installations are precise and to code. We stand with pride behind our work and when we install it, itís done right!
Contact us today at +91 44 43850545 or info@suninfratech.com to learn how we can customize your fire and security system to meet your needs.
M/s. Sun Infratech
#79/13, 1st Floor,
Mogappair Road, Mannurpet,
Padi, Chennai - 600 050.
Phone : +91 44 43850545
Fax : +91 44 - 43850545