Access
Control System
Electronic access control systems are no longer limited to simply locking and unlocking doors. Today, access control systems have become a tool that manages activities of your employees while protecting against unauthorized use inhibiting corruption, crime and hackers. Sun Infratech will design your access control system to track and monitor highly restricted areas while providing a safer working environment. And most importantly, you have access to managing your system, or a network of systems, from anywhere in the world.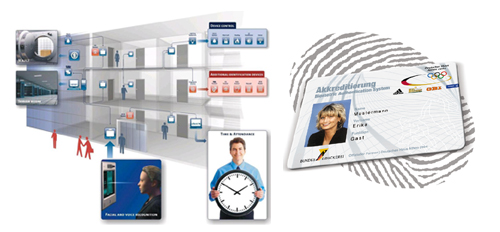 At SUN Access Control Systems is delivered with the objective of backward integration to CCTV, Fire & BMS Systems. SUN as your integrator, you need not require separate software/systems to control your various Security System programs. We deliver you the State-of-the-art access control equipment and systems for the simplest to the most challenging installations and integrate them to provide you a full-featured security solution for virtually trouble free operation. Expandability is the key word of our Access Control System. With virtually no-fall-out from your existing system, you can add on readers and controllers to upgrade your system with simplicity and ease as never before.
Our expanded product ranges are delivered to you after careful evaluation by our professionals to ensure that you get a single solution for all your security needs.
Proximity / Vandal Resistant / Long Range / Keypads & RF Tags
Biometric Solutions
Stand Alone & Network Systems
Online/Offline Solutions
Time & Attendance System
Access Control & Management Software
CCTV, Fire& BMS Integration
Our installations are precise and to code. We stand with pride behind our work and when we install it, itís done right!
Contact us today at +91 44 43850545 or info@suninfratech.com to learn how we can customize your fire and security system to meet your needs.
M/s. Sun Infratech
#79/13, 1st Floor,
Mogappair Road, Mannurpet,
Padi, Chennai - 600 050.
Phone : +91 44 43850545
Fax : +91 44 - 43850545